Rotary Microtome Erma Type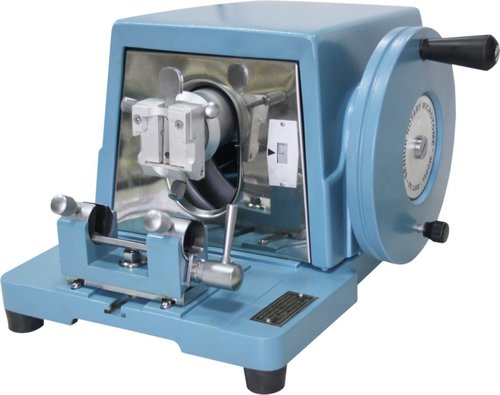 Rotary Microtome Erma Type
Price And Quantity
Product Specifications
Pathologist

Manual Microtome
Laboratory

30kg Kilograms (kg)
Product Description
MediraySenior Precision Rotary Microtome Model MHMT - 30 is the most precise anduniform sectioning equipment for use in Medical Colleges, Universities,Research Laboratories, Hospitals and Educational Institutions. The internalmechanism and knife holder rests on a heavy-duty and rigid base to render ashake proof operation. The Protective aluminium cover is hinged to the base andswings back so that the interior parts are completely exposed for convenientsetting, cleaning, lubrication etc.
Feed mechanism is dependent upon the vertical movement of the object block.With every complete revolution of the counter balanced drive wheel, the feedpawl engages with the teeth of the ratchet gear which moves towards andadvances the object holder through a cone inclined plane mechanism in preciseincrements so that the tissues can be sectioned even to a thickness of onemicron.
Whenthe limit of the feed reaches at the end, a safety device automaticallydisengages the feed mechanism to prevent jamming and avoid damage to the feedscrews. The feed indicator is graduated in microns, is conveniently located inthe front for instant references and its setting is controlled by a knurledknob at the back of the microtome. The sturdy knife holder, in addition toknife elevating and leveling provides lateral movement for complete use ofknife edge. The angle, adjustable up to 30o, is indicated on a reference scale.The knife supplied with the Microtome is fabricated from high carbon fine graintool steel which is heat-treated for proper temper & tested for Microstructures.
Alever is provided to lock counter balanced drive wheel and specimen block isstopped at the top of its excursion, providing ample clearance space for safetyinsert and removal of knife and block holders. A quick flip of the leverreleases the drive wheel.
The complete unit is packed with the following accessoriesin a wooden case :-
Optional Accessories :-
RazorAttachments, Microtome Razors/Knives, L-moulds, Object Holders, Honing Stones,Leather Straps, Micro abrasives, Knife backs and handles Lubricating Oil,Razor/knife Sharpeners etc.
Trade Information
Cash on Delivery (COD) Letter of Credit (L/C) Western Union Paypal Letter of Credit at Sight (Sight L/C) Cash in Advance (CID) Cheque

Western Europe Asia Australia North America South America Eastern Europe Middle East Africa Central America
All India

ISO 13485:2003 & CE certified